I Love the Mail....
Last Week's Mail....
brought me a

from my friends Amy and Forrest in Massachusetts : A very full box that UPS delivered at the end of what was a rather nice day last Tuesday.
And in it was a wonderful assortment of goodies - a lovely card with kind words, bath augmentations, a John Cleese video and a crafty book: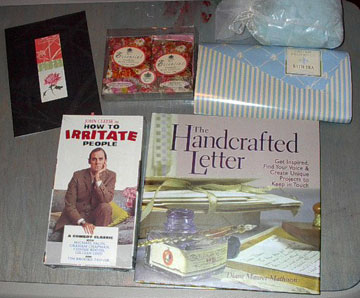 and, an assortment of yarn of the novelty variety - the spice of yarns...add a little bit of the right novelty yarn and your project can come alive (and ,as with spices, too much is....too much!)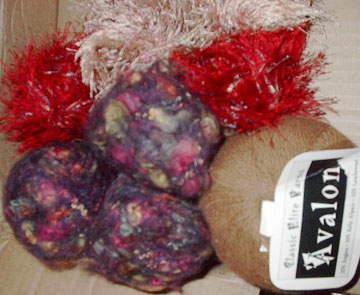 AND....here's an extra-special part of their gift - a tiny heart rock!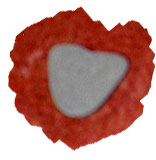 I couldn't read the card at first because I started crying as soon as I opened the box. I was so touched by the thought of people I know only online taking the time to gather things to send and comfort me. And the heart rock is so special, chosen just for me from the collection of heart-shaped rocks that Forrest has picked up from Mother Nature.
Thank you so much, Amy & Forrest!!
I know that I cannot "pay back" Amy, Forrest, Linda, Peacock, Julie, Don, Meg and so many others....all those who have taken time and effort to reach out to me with heartfelt empathy, thoughts, prayers, gifts. But I hope I will be able to "pay forward" and that I can someday be an angel to someone else in need of comfort and knowledge of being not so alone.
Thank you all so much!
Today's Mail...
brought me the
Dharma Trading Company
catalog, dangerous, but oodles of fun to look at: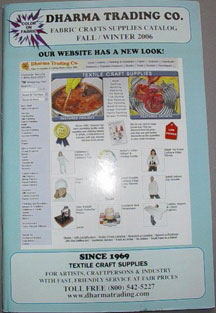 Dharma Trading Company is a good source of supplies for dyeing yarn, shirts, fabric. They are sending me the catalog because a while back I ordered some silk and Synthrapol for the visions in my head that I'd like print on fabric using my ink jet printer. Someday....
and the latest issue of
Fiber Arts
, featuring dolls: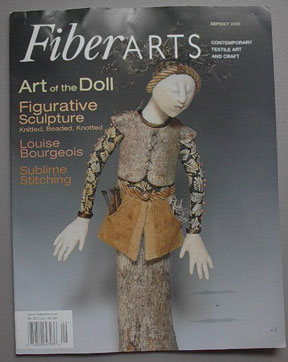 I have always enjoyed this magazine, and last year I was able to get a huge lot of back issues which I'm very glad to have. This is one of those magazines I save because I see or learn something new most anytime I go through an old issue. Other magazines I keep for that same reason:
Knitters, Interweave Knits, Spin-Off
, Threads (up to when they became focused solely on sewing in the mid-90s) and Mon Tricot.
I have years and years worth of these venerable magazines, and have managed to complete runs of past years by finding them at library sales and sometimes in lots on eBay, although often I've had to buy single issues. Before buying them on eBay at sometimes premium prices, be sure to check for available back issues from the publishers.
More recently founded publications that have become keepers:
Belle Armoire
,
Quilting Arts and Cloth, Paper, Scissors
, and
Art Doll Quarterly
.
So much inspiration, so little time....
Finally, today's mail also brought me a book from my sister George-Anna: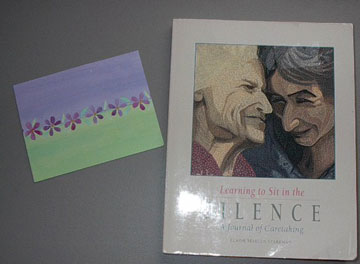 Learning to Sit in the Silence / A Journal of Caretaking by Elaine Marcus Starkman
My sister's note said that she found this copy in the bargain basement of a shop in Tennessee and that she read it straight through in one day. From my brief look through it, I can tell it's about caring for a relative with dementia while also having the responsibilities of a family with teenage children - the "sandwich generation" dilemma.
She found a lot that resonated with our situation with our mother and thought I might find in it some comfort and catharsis. Thanks, sis!
Special Note to Novabella
: I appreciated your comment to a post below and wanted to recommend a book that has been wonderfully comforting and useful in dealing with loss:
It's
Healing Through the Shadow of Loss
by Deborah Morris Coryell. She has worked in this field for many years and
her website
was the first one I found that really gave me a sense of
how
to go through the loss and grief journey.
Namaste,
'zann