Calming the Twist
Lately I've been using my handspun right from the wheel and not 'setting the twist.' I'm not sure that soaking/drying the yarn after spinning actually sets the twist, maybe 'calming the twist,' is a better way to describe it. In Spin-Off I see more references to working with "energized" yarn-- that is yarn (usually singles ) used directly from the bobbin after spinning. I'm not doing anything that utilizes that energy although some spinners carefully design their knitting to take full advantage of its quirks. Moi, I'm just being a bit lazy and impatient when I knit with energized yarn!
That yarn comes from my trusty old Louet wheel: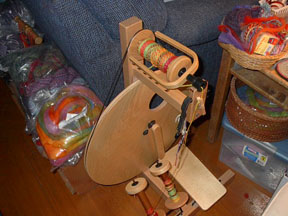 I'm going to take some of my handspun to the arts fair, and that yarn I am going to calm a bit. So that became the project for Saturday and Sunday. I put four skeins at time in a basin of warm water with a bit of Eucalan wool wash. I let them soak for a bit, then rinse with cooler water. I do a
little
squeezing of the yarn, which maybe fulls it a bit, but I always treat it with care to avoid out-and-out felting. I pop the skeins into mesh bags and run them through the spin cycle of the wash.
Then I hang the skeins on this nifty drying set-up: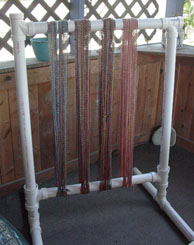 The how-to for making this was in an old issue of Spin-Off. I have been looking for it, so I could give the issue number and credit to the designer, but so far I haven't located it yet. It is made of PVC pipe and is so useful and perfect for my needs that I can forgive myself for using PVC. It's a bit "fiddly" to disconnect the bars to hang the skeins, but I've learned to do it efficiently. None of it is fixed together permanently, so it can be taken apart to store. The only improvement I might make to this would be to permanently connect the feet-parts and put some kind of caps on the ends so that it doesn't wobble.
The nifty thing is that lower crossbar - it uses a bigger connector so that it slides up and down. This creates many options for weighting the skeins lightly, heavily or not at all. Between learning to use the spin cycle and using this rack, great improvements in my yarn production have occurred over the last few years. My family is delighted with not having wet wool weighted down with a variety of mugs, etc. hanging and dripping in the bathroom or basement. I have learned to love the smell of wet wool, but I am the only one.
Here are the eight skeins I calmed this weekend, the first batch is Corriedale wool, spun of rovings from the same dyelot, the second batch is merino, spun from four different rovings (and don't they go together well! ):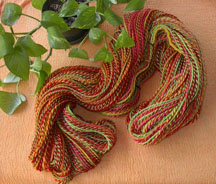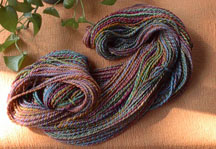 These skeins are approximately 50 grams, 2-ply and 45-70 yards. They are all spun from hand-dyed rovings that I get from Bob Smith of Winderwood Farms on eBay. His colors are just lovely to work with, and it's a visual pleasure. I also get some nice hand-dyed roving from Deb Brandt on eBay. Her id is dudleyspinner. I've mostly been using her darker and more muted colors to make my felted vessels, spinning a very thick singles yarn with little twist.
While skeins were drying, I was busy working on some wrist bands/bracelets, trying to figure out a design involving leaves and flowers. And I also finally caved and started a multidirectional scarf. I was NOT going to start anything new, only work on projects for the arts fair. However, I've been on Iris Schierer's Multidirectional Yahoo Group for two weeks, and they are doing a Knit-Along with her basic MD scarf pattern. Some 40 people have already finished and posted pictures of their scarves and I could no longer resist joining in the fun.
Off to have a cup of tea and work on the scarf a bit, do loathesome paperwork, and eventually take my mom to the medical acupuncturist. I am going for an appointment tomorrow - this is somewhat knitting/spinning related as I am dealing with a lot of shoulder/upper arm pain which first started a year ago when I was spinning very fine with some very fine merino.